JOHN NESSER
Notes from John Nesser
I was with Alpha Company from late May 1969 (just after Hamburger Hill) to about January 1970 when I transferred to the 159th Aviation Battalion to be a door gunner.
You other Avengers may be interested to know that I wrote a book titled "The Ghosts of Thua Thien" and had it published by McFarland and Co. in 2008. It won the Military Writers Society of America's 2008 Gold Medal Award for Memoirs. If you or anyone is interested, the book is available on Amazon.Com which has several book reviews. Other bookstores can order the book as well. A good deal of the book is my recollections of ground ops with Alpha Company. Some may recognize themselves in the book though I used fictitious names at the direction of my publisher.
---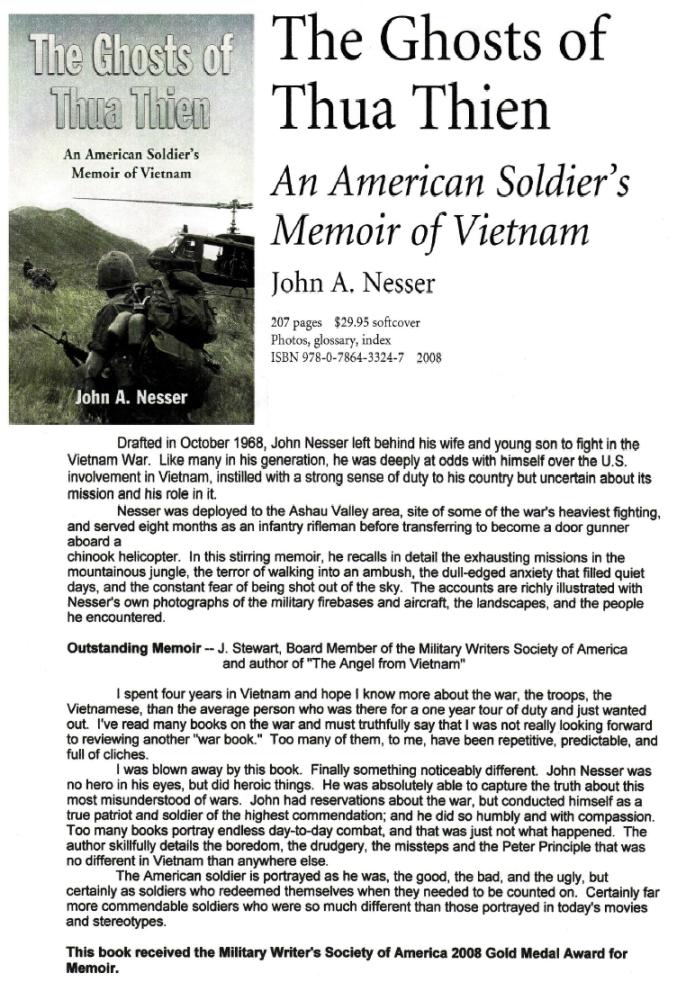 LOOKING FOR A HERO

There has been a book written about the life and times of Joe Hooper. The authors are Peter Maslowski and Don Winslow. Several Avengers attributed to the background history of Lt. Hooper. One of the places you'll find the book is www.amazon.com

---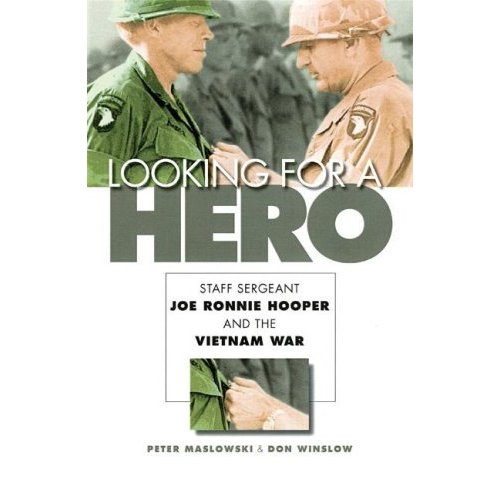 A SALUTE TO LOWELL LOCKHART
Michael Dorch was from Tampa Florida. He now resides in Alvin, Texas. See his entry in the guestbook. Michael would like to give a special salute to Lowell Lockhart from Whitwell Tennessee.

If you would like to know about Mike's background with Alpha company go to this URL:
http://home.att.net/~lzvietnam/fb173dd.htm
CITATION REQUEST
The 101st Abn Div is putting together a written history of awards from WWII, Vietnam, etc., for the BSM and higher. They are looking for all personal award citations that veterans and/or families have to submit. I will send you a copy of the information request and who to contact. The trooper in-charge is stationed at Ft. Campbell and is feverously working on getting as many of the names and citations as possible so it can be published for the official 101st historical record. He's for real and I've dealt with him for the last year.

Roger Barski
773-259-1923
http://nagteam.org/airborne

Here is the citation request form:

Classification: UNCLASSIFIED
Caveats: FOUO

Ladies and Gentleman,
We are building our History event from WWII to present and are including the following awards:

Bronze Stars with Valor
Silver Stars
Purple Hearts

Please provide any supporting documents that you might have of yourself or a family member.

CW2 Niebuhr, Ryan P.
ADAM/BAEC2
Systems Integrator 2BCT, 101 ABN DIV (AASLT)

ryan.niebuhr@us.army.mil
LEO "DOC" FLORY
Robert Richard Malecki of Alpha Company 2/501 (Chicago, IL) was Doc's inspiration to write the book. He was KIA May 13, 1969 in on Firebase Airborne in Thua Thien, South Vietnam.
---
The 2/501st has been reactivated after 40 years.
On 16 October 2013 the 2nd Battalion of the 501st Parachute Infantry Regiment was reactivated at Fort Bragg, South Carolina. We are now part of 1st Brigade, 82nd Airborne Division.
In November of 2015 a grpoup of Alpha Company members attended the ceremony at Fort Bragg.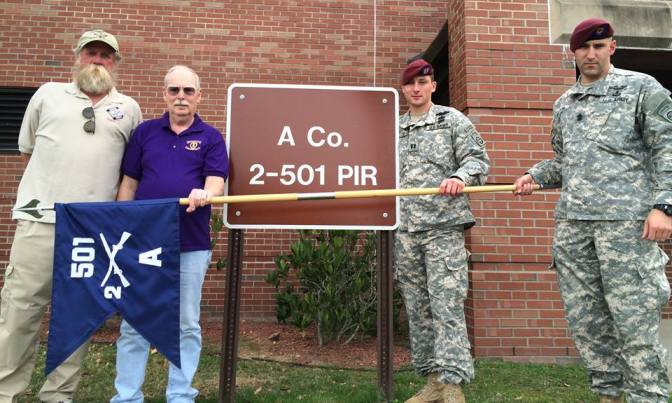 Dave DeSoucy, Floyd Turnley and the - CO and 1SG of the new 2/501 82nd Airborne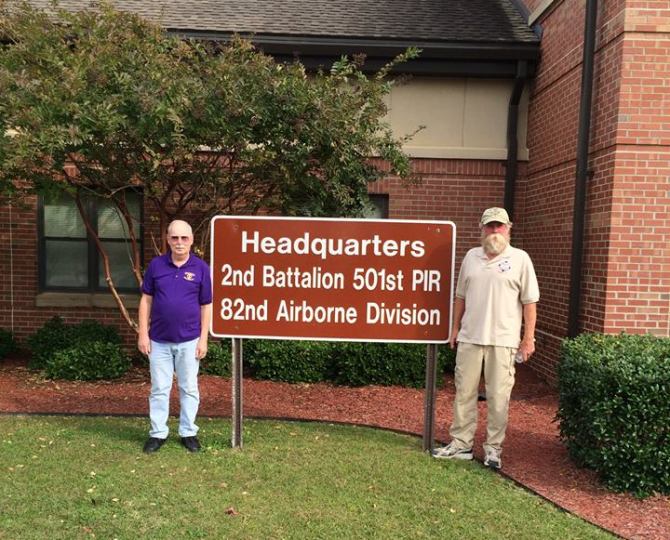 Floyd Turnley and Dave David DeSoucy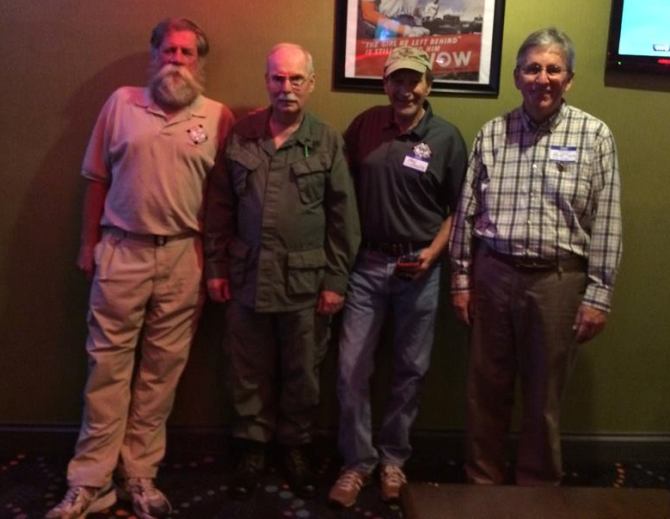 Dave DeSoucy - Floyd Turnley - Ken Counts - Jim Schmidt
---
TYLER ECKHEARDT
We were blessed to have Tyler Eckhardt and his wife Jordan from Cedar Rapids, Iowa as guests at the 2018 Avenger reunion in Gettysburg, PA. Tyler is with 2/501 - 82nd Airborne. On 16 Oct 2013 the 2/501st, 101st Airborne was reactivated after 40 years to be a part of the 82nd Airborne.
---