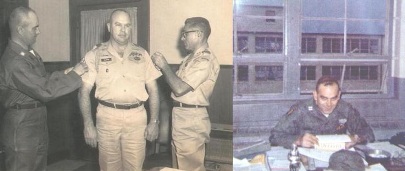 Don Tate (Scripps-Howard Staff Writer) published an article in "The Pittsburgh Press" on 7 Jan 1968 titled "Green troops learn it's a bloody war".

First Combat Mission Makes Men Of Boys


By DON TATE, Scripps-Howard Staff Writer

CU CHI, South Vietnam - Up until now it had all been play war.

The green paratroopers, only two weeks in Vietnam, would run down the dirty road toward chow, and a sergeant would bark things like: "Hey, you animals, let me hear you growl…" And they would go "Rowwwr ..."

Arise For Orders

But this morning the men and boys of Alpha Company came out of their tents early, slowly formed into platoons, and waited for orders from their company commander, Capt. Dave Reiss of Alexandria, Va.

This was the morning they were going to war, their first combat mission - and for some of them, the last.

I moved among them, talking to one, then another. There were hard swallows, tight smiles, and very little of the famous airborne wisecracking. Some admitted they bad not slept the night before.

Capt. Reiss had told me that though Alpha Company was part of the 2nd Brigade of the "Screaming Eagles" of the 101st Airborne, about 60 per cent of his men weren't hardcore paratroopers. Many had been mustered up hastily from truck driver or company-clerk jobs after the brigade had received orders back at Ft. Campbell, Ky.

"But they've turned into a good outfit fast," Capt Reiss said. "Still, you never know until you've been shot at."

Worries About Pigeons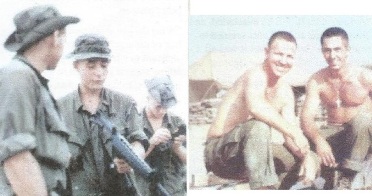 One who didn't seem particularly nervous about it was the baby-faced Georgia lieutenant who commanded the weapons platoon. He smiled and said he was really more worried about the carrier pigeons he was training. He didn't like leaving them alone.
Another who didn't appear in mortal terror was his big, laughing Negro platoon sergeant from Kentucky, described by his commanders as not just a good soldier, but a "great" soldier. He and Capt. Reiss were members of the small nucleus of combat veterans in the company who volunteered to return for a second tour in Vietnam.
One who didn't mind admitting he was nervous was 2nd Lt. John Rodelli of Chicago. Lt Rudelli, small, swarthy, intense, said he know how he was going to react or how his platoon was going to react. Only six months before, Lt. Rodelli had been taking ROTC and majoring in business management at college.
Another nervous one was 18-year-old Pfc. Larry Mize of Baltimore, an impish-faced medic with a missing front tooth.
"I've got a false one," he sort of stammered, pulling the tooth from his pocket, "but I don't wear it when I'm walking. It gives me a headache."
Pfc. Mize said he became a medic because he figured it might do him some good when he "got out. And maybe while I'm in…"
"New Ball Game"

Sgt. Dave DuBose of Birmingham, Ala., said sure he was an 18-year veteran and had been under artillery fire in Korea, "but this is a new ball game."
At 8:30 a. m., Capt. Reiss gave the order: "Right about face!" Then: "Move out in a column of fours."
Alpha Company was part of a battalion search-and-destroy sweep north from Cu Chi toward the Ho Bo Woods about 35 miles northwest of Saigon. The company platoons went out in three horseshoe-shaped formations from the camp.
"Get that rifle off your shoulder," someone bellowed to a soldier in the point platoon.
"What do you think you've got there, a. bag of oranges?"' hollered a squad sergeant to a private carrying extra ammo clips in one hand in a sack. "How you going to fight like that, soldier?"
"Here it starts," said Lt. Rodelli, popping a magazine in his M-16.
6 Hours, No Enemy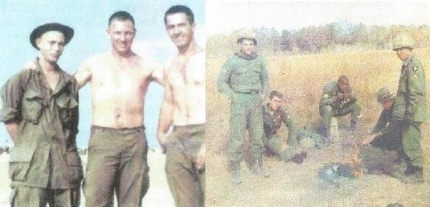 It started and went on for six hours. We moved, watching for booby traps, guns ready, and kept going through blistering-hot, thorny, thick-brushed, broken-treed, insect-swarming flatlands. We found plenty of enemy tunnels, but no enemy. The heat knocked out a couple of troopers who had to be evacuated, and the big black and red ants seemed to want to eat you alive; but it was all tension and bull labor, no fighting.
By the time the company moved into a grassy stretch where they would dig in for the night, the tension and grimness had been sweated out.
They plopped down their packs and rifles, stripped off their shirts, drank deep from canteens, got out entrenching tools, started digging in the sun-baked ground and filling up sandbags.
"Is this piece of nothin' what we been marching for all day?" laughed a soldier, looking around.
"That's war," kidded another.
Start Off For Briefing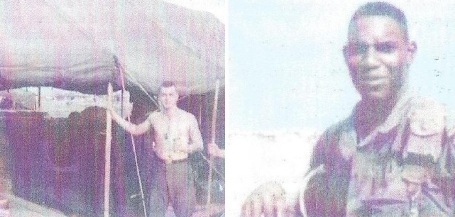 Lt. Rodelli asked if I wanted to go over to the briefing for the night ambushes, and I said I did.
"We'd better go a little early," he said. "I'm not sure where it is."
Beyond our perimeter now, about 500 yards out, came artillery bursts-it was our stuff back at Cu Chi zeroing in our position in case of an enemy attack during the night.
We walked through the weapons platoon where the baby-faced Georgia lieutenant was holding forth as casual as ever, probably still worrying about his pigeons. His platoon sergeant, the "great" soldier, was laughing and demonstrating digging to the greenies.
They say you never hear the one that gets you. I heard this one. It came down behind us hissing and my head already was down and touching ground before the explosion. That bursting, shocking sound came and the concussion went smacking over us.
Someone to my left was saying: "What the devil, what the devil .. (and then the voice was furious, unbelieving) "That was one of ours!"
Another Explosion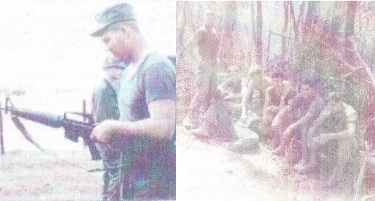 There was another explosion farther away, and I heard the same voice yelling: "Tell that damned artillery to cease!"
In a moment I looked up and saw the black cloud from the first explosion barely 30 yards away. It hung over the weapons platoon. All around men were shouting: "Medic! Medic!" And at the same time there came screams, ungodly screams.
I stood up. Behind me a tall soldier was stretched out flat in the high grass.
"Are you hit?"
He just lay there rigidly flat in the grass. I bent over him and he stared straight at me blinking his eyes furiously. He wasn't hit. He was scared literally stiff.
I ran toward the smoke and stepped on something. It was a man's arm, severed at the elbow.
Belonged To Lieutenant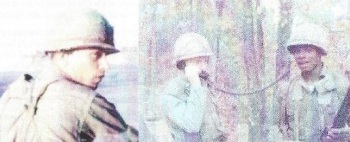 The man the arm belonged to lay in the dirt and smoke. It was the baby-faced lieutenant. His eyes and mouth were wide open as though he had died shouting.
A few yards away was the "great" soldier, who had been laughing and demonstrating digging moments before. He lay on his back on a bloody hump of earth without his head, with his left shoulder and arm blown away.
In the next nightmarish minutes I saw Pfc. Mize, the young medic, working among the blood and bowls as though he had been a doctor all his life.
Radiomen were calling evacuation choppers. Capt. Reiss and Lt. Rodelli were both moving quickly, directing their men. Others were trying to identify the dead. One man kept saying he had to find the sergeant's head. Another picked up the lieutenant's arm and wrapped it up with him in a poncho.
Five soldiers worked with morphine and bandages over a man whose leg was hanging off. They had to keep knocking away huge ants. Nearby, ants were swarming over a helmet spattered with blood and flesh. The helmet had "Tennessee" penciled on it.
Count Four Dead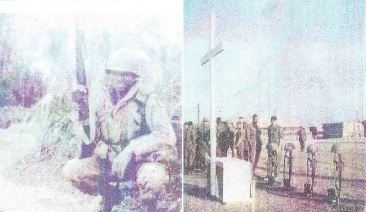 Between then and the approximately 25 minutes it took the first chopper to reach us, we counted four men dead, two more close to it, and eight others wounded. It was also determined (and later verified) that one of our own potent 4.2-inch mortar rounds from out of Cu Chi had fallen short by mistake.

One man stood looking down and said over and over, fighting back tears: It's a helluva thing to happen. It's a helluva thing …" Another just said: "Damn, damn …"

Lt. Rodelli stood nearby, shaking his bead.

Pfc. Mize came over to Capt. Reiss. The kid's hands were bloody to his wrists, only he didn't look like a kid anymore.

"Those guys had wives and children," Sgt. DuBose was saying. " They were good men. "

"The best," the captain said softly. "The very best."

Alpha Company had reached the war.

- The Pittsburgh Press, Sunday January 7, 1968